Keeping an Eye on Seven American Whiskey Trends and Brands of 2021!
May 26, 2021
Throw an Epic Bourbon Tasting Party by Following this Easy Guide!
June 21, 2021
Here is the thing: the trend of recycling old and unwanted stuff, such as used bourbon barrels, has never been hotter.  Converting old, unusable barrels into planters for some beautiful flowers or aromatic herbs is a great way to repurpose old items and bring new life to your garden or living space!
By following the easy steps laid out in this blog, you can give a barrel the retirement that it deserves.  Their first life was spent working hard, aging wine and whiskey for us all to enjoy, so they deserve a nice vacation as a beautiful flowerpot. 
Used oak barrels can be converted to many things, such as furniture, barrel planters, or even rainwater harvesters!  There are so many amazing things that can be made from oak barrels, and inspiration can be found everywhere.  For this blog, we are going to focus on converting used bourbon barrels into planters!
What You'll Need:
Before building a house, you must first lay the foundation.  Before constructing your beautifully repurposed planter, there are some things you will need.
A barrel
Circular Saw
Carpenter Pencils
Chalk Marker
Measuring Tape
Sandpaper
Protective Gear (for your eyes, hands, and ears)
Power Drill and Attachments
Get your choice of premium used barrels from Rocky Mountain Barrel Company at the best prices around!
Steps to Make a Barrel Planter
The whole process is fairly easy!  Just follow the steps below in order to make your favorite new décor piece:
Before you work on the barrel, make sure to wash it thoroughly.  If there is any hint of the original spirit left infused into the barrel, it could affect the pH of the soil, negatively impacting how flowers will grow in your planter.  Best practice is to utilize a power washer to clean both the outside and inside of your used barrel.
Once the barrel has been washed, naturally it must be dried.  Nobody wants to put a saw to wet soggy wood!  Leave your barrel out in the sun for a couple of days to sufficiently dry out before moving onto the next step to make your barrel planter.  If you live in a place where there is not much sunshine available, leave it in a place where it will at least not get rained on and ideally set up some form of airflow aimed at the drying barrel to help it dry quickly.
Lay the barrel on its side and find the lengthwise mid-point.  While eyeing it should suffice and get you close enough to the midpoint if you want to utilize the tape measure to find the exact midpoint feel free to do so!  Mark this spot with a carpenter pencil.  Rotate the bottle six-to-eight inches and mark the midpoint again.  Do this going around the entire outside of the barrel.
Use the chalk to align the points.  You can use the tape measure to help you draw a straight line if needed.  Make this line carefully, as this is a guide to where you will saw through the barrel.
Put on your protective gear and begin cutting into the barrel along the marked line.  Take things slow and take great care not to stray off the line.
Once the barrel has been cut in half, you must drill holes in the base to allow proper drainage of water.  The recommended number of holes ought to be between four and eight, but you are the best person to make that decision.  Hint: consider how many flowers you will put in the pot and how often you'll be watering them before deciding how many holes to drill.  The more flowers and the more frequent watering, the more holes you are likely to need.
Next, get your sandpaper and smooth out the sharp, splintery edges of the freshly cut used barrels.  The rough edges of your barrel could end up hurting somebody who is admiring your beautiful flower pot, which we simply cannot have!
Add a protective layer over the edges of the barrel to shield it from all forms of weather.  Let the finish dry and BOOM!  You've got a beautiful barrel planter!
Way to go!  You've got yourself a distinctive, unique, and beautiful barrel planter!  And the best part about your new favorite garden ornament – you made it yourself!  The satisfaction you feel after completing a DIY project is truly second to none.
Are you wondering where to get your used bourbon barrel to make your barrel planter?  Look no further than Rocky Mountain Barrel Company, of course!
Let's take a look at some other creative ways you can cut your barrel!
Barrel Planter Ideas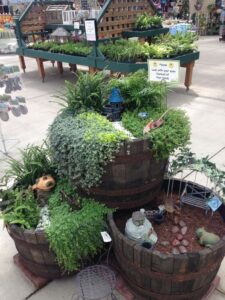 In addition to the simple method of dividing a barrel into two parts at its horizontal center for a planter, we've got some really cool ideas you can consider to really spice up your garden!
Instead of cutting your planter horizontally (width-wise), try cutting it vertically (length-wise).  Cutting a barrel in half length-wise will give you a massive pot in which to plant many flowers!  
Create a spillover effect by placing the barrel horizontally with a couple of plants scattered around it.  This can really spice up your garden and provide an extraordinary dynamic feel.
Try combining a small fountain with your barrel!  Your garden can feel like an enchanted forest with the right amount of running water, especially through your unique, hand-made barrel planters!  Imagine the serenity of sitting in your garden, listening to water flow like a waterfall from one barrel to another, both surrounded with luscious green plants.
A tiered planter would look amazing in any corner space!  By cascading from a larger barrel into a smaller barrel, you can make the corner of your garden be the most beautiful spot!
We hope that this blog has inspired you to undertake the DIY project to make your favorite new item of home and garden décor!  If you're looking for a place to get affordable, high-quality barrels for your DIY project, look no further than Rocky Mountain Barrel Company!  We are dedicated to offering all our customers the best service and providing the highest-quality used oak barrels on the planet!