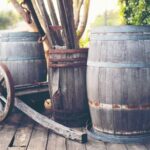 8 Creative Ways People Have Repurposed their Whiskey and Bourbon Barrels!
June 26, 2021
21 Ways to Decorate Your Outdoor Space with Bourbon Barrels
August 3, 2021
This one is for all the vegans out there!
There is no need to be deprived of experimenting and making food recipes using bourbon! It can still be made to Vegan standards. 
We've compiled a bunch of dishes that you will be able to make guilt-free and without compromising on your veganism. The shift to becoming a vegan is tough and removing spirits from the equation would be another ball game altogether.  
You must already be aware of what pairs well with bourbon, so before much ado, let's get into the details of how to incorporate bourbon into your vegan meals. 
We're going to cover an appetizer, a main course, and a dessert. This way, you know for sure that it's going to be a good day and a full meal!
If you're looking for some really tasty food then you can use a pink Himalayan salt from lafayettespices.com, the high mineral content of this salt has made it a go-to for the health-conscious as well.
1.Tempeh Sliders
Most of us will begin doing the happy dance when we hear someone is serving sliders! So, why not make them vegan and add a splash of bourbon? Here's what you'll need to do:
Grab a pan and add two teaspoons of olive oil to cook the tempeh over medium heat for 2 to 3 minutes. Cook on each side until nice and golden. Into the same pan, you want to add onions and sauté them until soft and slightly golden brown. This is where you see it becoming bourbon food. Turn off the flame, add a healthy dash of bourbon, and let it simmer for a minute to ensure it is reduced to half. Get yourself a sweetener and give it a good mix. To this, you'll add some veggie stock and let it cook. Now, you're going to add some arrowroot slurry into the pan and once again, cook it. You'll see that after a couple of minutes, the sauce starts to thicken; this is when you want to add in your tempeh. Reduce the sauce and season it with salt and pepper.  
Finally, all you're left to do is assemble the slider. Cut your buns into half, spread some smoked vegan cheddar sauce, followed by the tempeh, the reduced bourbon sauce, onions, maybe a couple of greens, a slice of tomato, a pinch of salt, and the other half of the bun! 
That's it; we're done with the appetizer of the three bourbon food recipes.


2. Noodles with Beetroot and Bourbon Sauce
With about an hour-long prep and cook time, these noodles are worth every second that you spend crafting the dish. The following recipe will serve between four to six people, so make the adjustments accordingly. Let's begin!
To make the beet sauce, you want to roughly chop up your beets and steam them for 5 to 10 minutes until they are soft. Blend them with 1.5 cups of water and raw cashews to form a creamy mixture. Get your pasta cooked as per the instructions on the pasta packet. To cook the veggies of this bourbon food recipe, you're going to heat a tablespoon of oil in a skillet and cook your finely chopped vegetables. Next, add in vegetable broth, garlic, salt, bourbon, lemon juice, creamy beet sauce, and a sweetener. Let it simmer for 10 mins and then add in your pasta! 
A simple and easy vegan meal perfect for any day!
It's finally time to make the dessert everyone would love.


3. Salted Caramel and Chocolate Tarts
Ending a meal with this sweet and salty dessert is probably the best way to go. This decadent dessert is going to be worth the time and effort you put. Make sure to share, as you're sure to be tempted to eat it all on your own!
This is going to be a four-part bourbon food recipe, so make sure you're focused. Let's get right into it. 
The first thing you want to do is bake the curst. For this, you'll require flour, vegan cream cheese, coconut oil, salt, and sugar. Add all of these to a food processor, then pulse it a couple of times to get a coarse consistency. Gradually add water to get a proper dough out of the mixture. Place it into the mold, prick the base, chill it for 20 minutes and then bake it in an oven that has been heated to 350 degrees F.
Next, we make the vegan chocolate filling to create our bourbon food recipe. In a heatproof bowl, you want to add roughly cut chunks of vegan chocolate and pour over simmered coconut milk. Stir it up and let it cool down. Then get yourself some room-temperature vegan cream cheese and whip it. Add the melted vegan chocolate and cocoa powder and mix it well. Finally, you will pour in a dash of bourbon. 
The last step is to make our caramel sauce. For this, you will mix full-fat coconut milk, light brown sugar, and pink salt in a saucepan. Cook this mixture on medium heat for about 10 minutes or until it turns into a beautiful golden mixture. Now add two tablespoons of coconut milk to the pan and cook it for a couple of minutes. Make sure you are stirring the mixture constantly.  If you let it sit, it will not be as tasty! 
Let it cool down completely before the assembly part of this bourbon food recipe. 
Finally, you want to get the tarts (once they've cooled completely), fill them with our vegan chocolate bourbon mixture, and pour the caramel sauce over them. Done, delicious, and ready to enjoy!
So, there you have an entire vegan meal filled with a little bourbon here and there, which will make your day ten times better!
If you want to buy used bourbon barrels and age your own bourbon before using it in any of the vegan recipes, you should get in touch with the experts at Rocky Mountain Barrel Co. We'd be happy to guide you through the process!