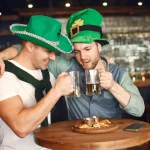 7 Delectable St. Patrick's Day Cocktail Recipes to Kick Off the Celebrations
March 9, 2023
The Differences Between American and French Oak Barrels
June 8, 2023
If you're a big fan of upcycling and creative crafting, you will be pleased to know that old wine and whiskey barrels can be reused in many ways. The most creative wine and whiskey barrel decorating ideas can be turned into furniture pieces like coffee tables, ottomans, chairs or stools, and even light fixtures! These upcycled furniture pieces are useful and have a story to tell. And they will give your interior a rustic touch!
Repurposed wine and whiskey barrels can be used for many different projects. With a little creativity, you can create anything from a reclaimed whiskey bar to a repurposed wine rack. If you love whiskey and rustic decor, you'll love these repurposed whiskey and wine barrel ideas for the garden and home interior. Whether you're looking to decorate your home for the holidays or just want rustic decor for everyday use, these whiskey barrel projects are perfect!
Discussed Below Are Some of the Astonishing Ways to Repurpose Used Barrels for Home Decor
1. Centre Table
If you love rustic decor, repurposing used Whiskey Barrels is a perfect idea. You can turn them into a variety of home decorations, including lighting and furniture pieces. For starters, try turning a used barrel into a table, which can be a great addition to any living space, and it can fit perfectly with country or primitive-style homes.
2. Nightstand
A nightstand made from used oak barrels is a fantastic way to hold books, candles, and other decor items. They can be a fun addition to your bedroom decor and a great way to add extra storage space. The key to selecting the right one is to ensure it's made from good-quality wooden barrels. This will maintain its quality, and you will be able to paint it according to your room's interior.
3. Mirror
A rustic barrel mirror is a perfect way to add some rustic charm to your home. The weathered look of the mirror frame contrasts well with the smooth, bright glass and creates a shabby-chic look that you'll love. If you want to make a big impact with your mirror, try this simple DIY. It only takes a few small rectangular mirrors, a sheet of plywood, and some used bourbon barrels.
4. Photo Frame
The photo frame is highly adored among the items made from whiskey barrels. If you have some extra barrels and want to upcycle them, consider a DIY photo frame. It is an inexpensive project that doesn't require any woodworking skills, and it will look stunning. This rustic-styled wood frame would look great in your bathroom, bedroom, or kitchen. And don't forget to install a hook behind it for hanging!
5. Light Fixture
Reusing old wine barrels is a great way to create unique furniture pieces and decorating items. They can be creatively used to make lighting fixtures. With the latest and creative wine barrel decoration ideas, you can easily add a cool light fixture to your home, office, and workplace. Get in touch with one of our barrel experts at Rocky Mountain Barrel Company to learn more about creative ways to reuse barrels.
6. Wine Rack
A wine rack is a great way to organize and store your bottles of wine. It is also a good decor item that will enhance the overall look of your home. A wine rack can be made of different materials, including used oak barrels and metal. Repurposed wine racks are easy to make and can be changed into a variety of decor and storage solutions. They can be customized according to your needs and preferences.
7. An Ice Chest
While wooden barrels are traditionally used to store wine, whiskey, and other spirits, there are many ways to repurpose them for home decor. One great way to turn a barrel into a decorative piece is by turning it into an ice chest! Get the best quality wine barrels for sale only from Rocky Mountain Barrel Company, one of the leading barrel-making companies in the United States!
8. An Ottoman
If you have a space in your home that could use a bit of extra seating, then a round cylinder-style ottoman made from used whiskey barrels may be the solution. These pieces add a touch of rustic charm to any room and can also provide much-needed storage space for blankets, toys, and more! Contact a Rocky Mountain Barrel Company barrel expert to learn more about wine barrel decoration ideas.
9. Bar Stools
You can make some very cool and creative bar stools from used bourbon barrels. This is a fairly simple project that anyone can do with a little woodworking knowledge and a few tools. To do this, cut a barrel into four pieces and use them to form the legs of the stool. Then, you can cut out the seat. Adding a cushion or pillow inside can make the seat more comfortable.
10. Barrel Rings
A wine barrel ring is an unusual way to add style to your home. It can be used as a centerpiece or hang on the wall. The barrel ring can be crafted to resemble anything from an old wagon or railroad track to an airplane. Learn more about whiskey barrel decorating ideas by contacting one of our barrel experts at Rocky Mountain Barrel Company!
11. Barrel-Hoop Chandelier
The hoop-shaped rings of used bourbon barrels are often recycled into various creative projects. One of our favorite repurposed projects uses six wine barrel hoops to create a chandelier. Cut a wine barrel to the size of your desired chandelier and remove the metal band on top and bottom. Then glue a round mirror on the inner side, and your barrel-hoop chandelier is ready!
12. Coffee Table
If you have a rustic or primitive-style home, you can use wine barrels to create beautiful furniture pieces. They're durable, attractive, and easy to make! Simply get two or three used barrels for sale, clean and dry them and paint them with your desired color. One of the most common uses for wine barrels is a coffee table.
13. Serving Tray
A Serving tray is one of the most useful items made from whiskey barrels. They are functional pieces of home decor that can be used to store drinks, food, or other accessories. Serving trays can be used in kitchens, dining rooms, and living rooms. They make great accent pieces to complement other decorations in your home. They come in a variety of materials and styles to suit your needs.
14. Bathroom Sinks
If you are looking for a unique and functional bathroom sink, consider using an old wine barrel. It has a natural place for pipes and drains and looks pretty good too! Refer to the information available on the Internet about how to use barrels for a bathroom sink, or reach out to one of our barrel experts to guide you through!
15. Garden Bench
Reusing wine barrels to create stylish new pieces of furniture is a great way to reduce waste and save resources. The garden bench is an easy DIY project that looks great and is inexpensive to build. Some contemporary designers are rethinking the concept of benches by producing more sculptural installations that produce a unique focal point or seating area.
16. Planter
Planters made of used whiskey barrels are a great choice for growing edibles and ornamental plants in small spaces like patio gardens. For stability, wine barrels are made of thick oak wood planks with metal rings around them. These barrels come in various sizes and can be bought from Rocky Mountain Barrel Company! They are inexpensive and long-lasting and add rustic charm to any garden!
17. Water Feature for Garden
Creating a water feature out of a wine barrel can be quite an interesting project for your garden. It can be a simple and cost-effective way to add elegance to your backyard space and create a soothing oasis.
To learn more about wine barrel ideas for garden, reach out to a barrel expert at Rocky Mountain Barrel Company. We are the leading barrel-making company based in Wheat Ridge, CO.
18. Half-Barrel Planter Box
Aside from being an elegant garden decoration, a half-barrel planter box is very practical and functional, too! To create a beautiful and functional garden, you can fill it with plants, soil, and water. If you're not a big fan of wine, you can also use a wine barrel to create a planter box for garden. Get the best quality wine barrels for sale at a great price only at Rocky Mountain Barrel Company. Contact us now!
19. Fire Pit
Barrel fire pits are a great way to warm up your outdoor space. Not only do they look beautiful, but they also serve as a nice spot to gather and socialize. Not only can you sit around the fire to roast marshmallows and enjoy a good movie, but you can also use the area for grilling food. Whether you have a patio or backyard, adding a fire pit made from used bourbon barrels to your garden can be a great addition.
20. Trash Bin
One of the good whiskey barrel decorating ideas is to create a trash can from used barrels. Recycled wine barrels are a great way to turn an old object into something new. They're sturdy, easy to work with, and can make for various creative items. It's a great idea for anyone looking to do their part for the environment.
Conclusion:
Fortunately, as discussed above, there are many ways to repurpose an old wine barrel into something new and useful. Repurposing used oak barrels is a great way to add rustic charm to your home. They are also extremely durable and easy to work with. The best part about buying used barrels for sale and using them to create your own unique and personalized design is that they can be completely customized as per the interior of your home. It can be painted or stained to suit your home decor.
If you love reclaimed wood and are looking for creative wine barrel decoration ideas to incorporate into your home decor, look no further. This trend is incredibly rustic and clever! Old whiskey barrels can be transformed into classy furniture that will surely enchant your home interiors. To learn more about creative ways to reuse used barrels, contact Rocky Mountain Barrel Company now!
Also Check: The Top Ten Whiskey Mixers