Serving Up a Glass of Champagne History – Dom Perignon
January 1, 2021
Understanding the 'Bourbon Boom' and Increasing Demand for Bourbon Barrels
February 1, 2021
OH! The Wedding Décor!
So, you have decided when will be your big day, and you are going all 'WOOHAA' with all the decisions that you are supposed to make.
One of the most important decisions that you are going to make is your wedding theme and décor. There are limitless options to choose from for your wedding décor, which makes it even more complicated. You can complement your wedding décor with themes such as Barn wedding, Farm wedding, Formal wedding, or Vineyard wedding.
People aren't more focused on formal and modern wedding décor nowadays. They are going 'Gaga' over rustic wedding décor. It is astonishing to see how people are going head-over-heels for dreamy rustic wedding décor.
The best way to have a rustic and country wedding theme is by using bourbon barrels for the décor.
Wondering where to buy bourbon barrels? Your search ends here!
Without any further delay, let's list out some wedding décor ideas using used bourbon barrels.
Shall We?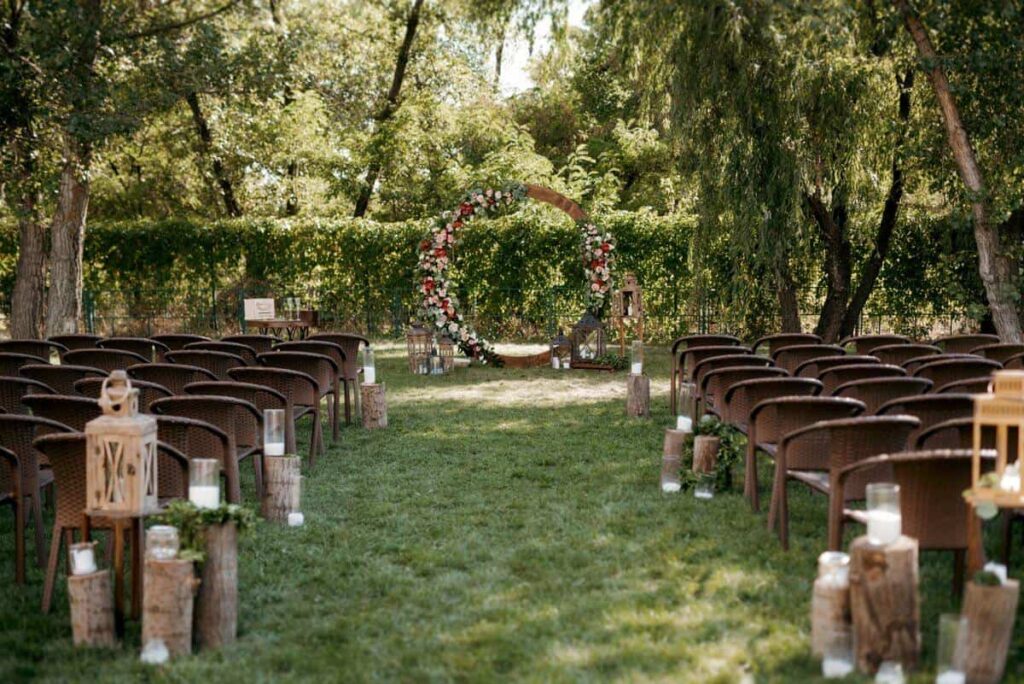 Why Choose Bourbon Barrels?
Before we move ahead and discuss the wedding décor ideas using used bourbon barrels, let's talk about why to choose bourbon barrels.
Bourbon barrels are solid oak bourbon barrels that have been used to store bourbon. They have markings, scratches, and strains that give them a very specific aged look and rustic appearance. You can even go for wine barrels.
Bourbon barrels are versatile, inexpensive, and gives a very rustic charm adding tons of character to your big day. They are the easiest way to bring your wedding décor from drab to fab! From your entrance, flower stands, to cocktail tables, we have a bunch of ideas you would surely fall in love with.
Are you pondering where you can get used bourbon barrels for sale? Rocky Mountain Barrel Company is your answer.
Get ready to make your wedding décor extremely dreamy and elegant with our décor ideas.
1. A Table for Ceremony Programs: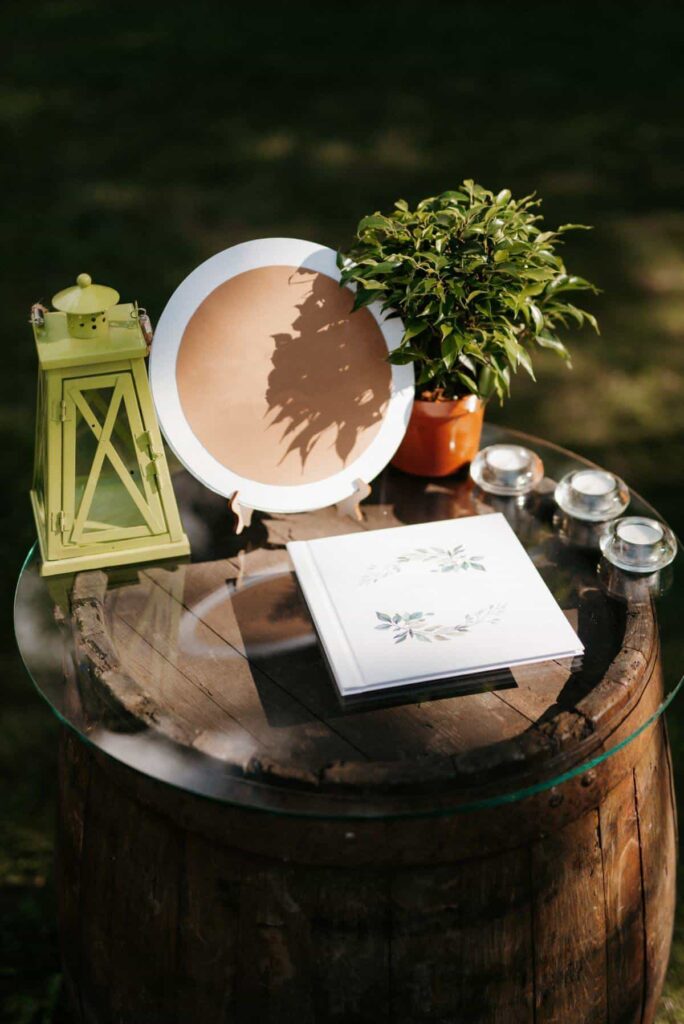 You can keep a bourbon barrel at the main entrance of your wedding along with a vertical blackboard welcoming your guests. You can decorate the barrel using flowers, or you can even place your wedding invitation on it. Make sure you choose the right place to position the barrel. Do not put it in the center of your entrance.
2. Rustic Ceremony Aisle Décor:
You can even try placing the bourbon barrels throughout your venue. For example, if you are having an outdoor wedding, you can place the barrels on each side of the beginning and end of the aisle. It will add a lot of beauty to your wedding decoration.
3. A Stunning Place and An Exciting Moment When You Say "I Do":
Bourbon barrels will look awesome if placed at the aisle entrance. They will look great with only two barrels at the entrance. For adding color to your decoration, you can use different rustic wedding flowers such as baby's breath or sunflowers and place them on the top of the barrel with the support of a vase.
4. Creative and Unique Seating Areas:
Chairs are boring. Use bourbon barrels for your seating. This is one of the most unique and creative ways of using whiskey barrels. Re-shape and modify them in a way that people can sit on the barrels. Converting bourbon barrels into chairs and tables is super easy. Cut the barrel vertically from the center, rotate it such that the vacant part is on the top, place a glass lid, and stick it. Your table is ready.
5. Cocktail Tables and Bar:
You can even use barrels for cocktail tables and bars. Place two barrels at a distance, add a sheet of plywood at the top, and your cocktail table is ready. To add beauty to your table, place a tablecloth on the plywood. This is also a great idea for your bridal party table. With minimalist efforts, you can add a chic attraction to your wedding décor.
6. Guest Book Stand:
The guest book is a part of every wedding. Your bourbon barrel is something that all your guests will remember for a long time. Using a bourbon barrel for your guest book is simple. Keep permanent markers on the top of the barrel along with a sign that motivates them to write good wishes for you on the barrel.
7. Rustic Wedding Cake Stand:
People put a lot of effort into finalizing their wedding cake, and in the process, you forget that where you place your cake is equally important. Try something different and unique. Choose a whiskey barrel as your wedding cake stand. These types of makeshift tables add a touch of stylishness to your wedding, along with reducing your wedding costs.
8. Barrel Flower Stand:
The vase is so old style and outdated. Use barrels to place flower decorations in your wedding decoration. Lilies, roses, sunflowers, jasmine, you can choose any flower that you love.
9. Display of Waterfall:
This is something not everyone can think of. Imagine having a waterfall at your wedding! No, we are not talking about the natural waterfall. We are talking about an artificial one.
You can use barrels to create an artificial waterfall look. Place 4 different size barrels in a descending sequence. Place a water pipe on the top of the first barrel. Cut the first three barrels in a way that water can fall from one barrel to another. Do not cut the fourth barrel as it is the last barrel in the sequence, and you do not want any water to fall on the ground.
This is a bit difficult, but you will be satisfied once you see how beautiful your wedding décor looks with an artificial waterfall.
10. Wine, Cheese, and Bread Station:
One of the most widespread uses of bourbon barrel décor ideas is to cut the barrel's top and fill it with ice. Dump the bottles of drinks, such as beer, wine, or soda, into the barrel of ice. Instead of a tacky cooler, you can have a charming down-home way to have your drinks cold and stick to your rustic theme.
11. Dinner Place Cards:
Whiskey barrels are not only a way to add a country look to your wedding. One of the most popular uses of these barrels is for writing seating arrangements. Just place the name of the guest on the top of the barrel. To add a romantic personal touch, you can even place the photo of the bride and groom.
12. Recycling Stand:
Bored of the traditional dustbins as they spoil your entire wedding decor? You can even use the barrels for people to put their used food plates, bowls and spoons.
13. Gift Stand:
You can also use bourbon barrels as a gift stand. Thank your guests for being so generous on the top of the barrel. If you are planning to give return gifts to your guests, you will need two barrels. Place all the return gifts with the name return of the respective guests in the semi-cut barrel.
Want to buy old bourbon barrels for your wedding décor? Get in contact with us!
All in all, bourbon barrels are not just a way of cost-cutting and saving your wedding budget. It is to make a personal statement that is unique and creative about your wedding. This rustic-chic look is making a strong comeback.
Go creative and crazy in choosing your wedding décor. Just make sure whatever you choose, resembles a part of your personality, and most importantly, makes you happy.
Happy Wedding and Good Luck with your Big Day!
We at Rocky Mountain Barrel Company are dedicated to offering all our customers the best service and used oak bourbon barrels. We believe in quality over quantity. That is why we give all our customers transparency, expertise, and great service. In the process, we have a family of more than 5,000 clients. Get in touch with us today, and one of our team members will help you know all our product offerings.
Do check out our infographic on DIY home decor ideas using bourbon barrels: https://www.rockymountainbarrelcompany.com/using-used-bourbon-barrels-diy-ideas-for-home-decor/