Bourbon/Whiskey
Our inventory selection is constantly changing on a daily basis! We receive freshly dumped bourbon barrels from a multitude of distillers every week
Using oak barrels has been an age-old tradition in the world of wine and spirits. These wooden barrels have created an opportunity for experimentation across beverages. Modern-day winemakers have started aging their wines in used bourbon barrels to obtain unique flavor characteristics. Early producers appreciated the advantages of an oak bourbon barrel for years before they acquired the technical knowledge that was required to understand the benefits of an oak bourbon barrel beyond the anecdotal theory. 
In winemaking, barrels add distinct flavors to the wine and soften tannins by enabling tiny amounts of oxygen to enter. Traditional oak wine barrels were often toasted, due to this process the barrels are able to impart flavors of baking spices and vanilla to wine as it ages. They are toasted at different temperatures. Winemakers can select new bourbon barrels at different toast levels to suit the wine style they desire. Used bourbon barrels for brewing, on the other hand, are completely blackened from intense heat; these barrels have a layer of char that imparts smoky and caramelized flavors into the bourbon. This layer also acts as a carbon filter to soften the spirit's natural harshness. When wines are aged in used bourbon casks, those same flavors – charred vanilla, dried herbs, caramel, honey, and toasted spice – appear in the wine.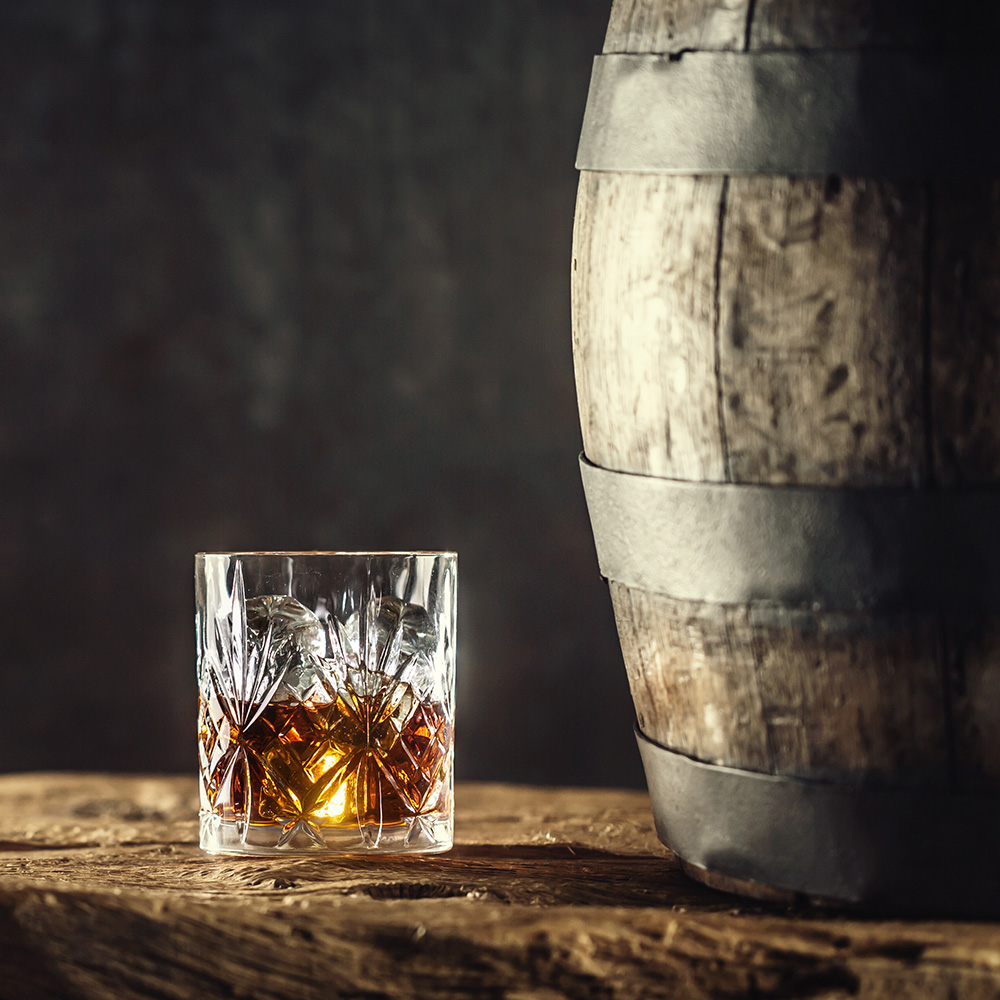 Buy bourbon barrels from us!
Apart from the newly charred barrels winemakers can also utilize barrels once used to age bourbon. Barrel-aged beer has become a signature feature of craft breweries across the country today, and local brewers have discovered the beauty of barrels as well. 
Where to buy used bourbon barrels? Our empty oak bourbon barrels are perfect for craft beer or bourbon distillers. Aged barrels add to the frothy richness and the divine taste of craft beers. You can easily buy used bourbon barrels online, ones that can hold liquids up to 53 gallons and are made of white oak. Each of these bourbon barrels for sale is charred or toasted on the inside. There are multiple levels of charring and the level varies based on the distillery. A charred barrel is what imparts the bourbon with its charred and smoky taste. It also provides sweetness with toffee and vanilla notes because the sugars in the wood caramelize during the charring process. When you purchase our empty bourbon barrels for sale, you can attain all of these complex flavors and make your own bourbon, wine, or beer. Apart from that, you can also experiment by using it for winemaking. Investing in our used barrels is a win-win deal! 
Moreover, if you have been looking for a bourbon cask for sale, then you are at the right place.
Bourbon has become a very popular drink across the United States and that love is even spreading beyond. Our selection of used bourbon barrels for sale allows you to see the intricacies that separate each of the different barrels and their origin. Since each bourbon is unique in its flavor and aromas, that same distinction carries over to the used bourbon barrels for sale that Rocky Mountain Barrel Company offers. All of our used bourbon barrels for sale can be used for large or small products and we have outstanding relationships with suppliers that we can scale to any project that requires used bourbon barrels for sale. Request a quote today and let us create a partnership with you.
Similar to how a child matures over time, whiskey and other aged alcohols become more refined as they spend years resting in a barrel. Used whiskey barrels are vital in the process of aging as it gives alcohol the color and flavor that we expect.
Not many people are familiar with the process of aging. Aging is a method of storing distilled spirits of wine and whiskey in empty whiskey barrels for a specific period of time. The aim of doing this is to remove all the harsh flavors from the raw alcohol while adding peculiar flavor characteristics that are found in the barrel's wood.
When alcohol is added to old whiskey barrels, it is clear and has flavorful nuances of corn and grain. During its time in the barrel, it will imbibe the flavors and colors of the wood and transform into the brown liquid we are used to seeing in the bottle. 
Buy old whiskey barrels from one of the renowned and reliable companies!
Oak whiskey barrels and the interaction between the oak and whiskey is one of the most interesting components of the whiskey production process. Our team knows that the new spirit is to gain character and color from the wood in which it rests, which is why we choose only the best oak barrels for our clients, and the quality of these old whisky barrels for sale is carefully monitored.
People often ask why they should invest in wood whiskey barrels. The main reason for using oak wood is its unique physical and chemical nature. Oak has strength physically, its wide radial rays give strength when shaped for a cask. It is the purest form of wood, unlike pine or rubber trees that have resin canals that can pass strong flavors of maturing whiskey.
But it is not just about the oak itself, it is the transformation that the oak undergoes as a result of the seasoning and heating treatments during the coopering process. As a result of these processes, the wood attains pleasant-tasting oak lactones. This is how you get oak whiskey barrels.
Used whiskey barrels retain some of the absorbed whiskey and distillers who have purchased these barrels from us, appreciate the intricate flavors they can obtain in their own distilling process by employing these flavor-rich vessels. Our old whiskey barrels represent a better value to our customers.
You can also utilize the flavor adding the benefit of aging alcohol in a barrel with our used whiskey barrels for sale. We have a range of different whiskeys from across the US and the world. Each of these used whiskey barrel for sale will maintain its unique flavor and aroma notes due to where it came from and what was previously aged in the barrel. We work with breweries and distilleries to provide the best quality used whiskey barrels for sale to ensure a quality final product and a repeat customer. Contact us today and find out how we can set up an ongoing relationship to help you with all of your old whiskey barrels for sale needs and we can work on getting you the right barrels for your proj