All You Need To Know About Barrel Whiskey Before You Start Your 2023
December 25, 2022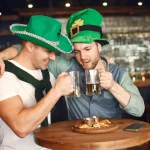 7 Delectable St. Patrick's Day Cocktail Recipes to Kick Off the Celebrations
March 9, 2023
Personalized barrel items are a great way to add rustic charm to your home. These items are made from bourbon barrels, allowing you to display a special piece of history. You can choose to customize the barrel with a name or a brand. You can even add a state and a distillery name. These items can be made from used rum barrels or other kind of barrels and can be displayed as storefront tables, restaurant tables, and gift tables. They are also perfect for weddings or outdoor parties.
Below listed are some of the unique personalized barrel items:
Personalized Whiskey Barrel Signs
Whether you're looking to upgrade your home bar or you want to display your love of whiskey in your living room, a personalized whiskey barrel sign is a great addition. These signs are made from authentic reclaimed whiskey barrels and come with hanging hardware for display. If you plan to create your own barrel sign, reach out to our barrel expert to learn more!
These personalized whiskey barrel signs come with the name of your choice in large bold letters. It can be designed with an aged metal hoop surrounding its rim for a rustic look. A lightly stained with a warm cherry stain will enhance its beauty. For the best look, a measure of a little over 19″ to 20″ in diameter will be a great addition to your home.
Whiskey Barrel Cabinet
Creating a whiskey barrel cabinet can be done with some basic tools. The first thing you will need is a barrel. You can buy used wine barrels from Rocky Mountain Barrel Company. Visit our store and explore the vast range of barrels you can choose from for your barrel cabinet. We are known to provide some of the best quality used barrels at reasonable and affordable prices. Visit us now!
Whether you want to create a new bar in your home or create a custom piece of furniture, making your whiskey barrel cabinets can be a great idea, the barrels are sturdy and can be used to create a great piece of furniture.
Barrel Wall Shelf
A whiskey barrel wall shelf table is an excellent way to add space and save floor space in your home. You can use it to create a minibar, jungle gym, or even a bar for your children. You can also fill it with alcohol for a party or business meeting. It can also be used to store mini kegs of different alcohols. Various designs are available online for the wall shelf you can make from used wine barrels.
The barrel wall shelf is a perfect addon to your barrel decor. You can use this wall shelf to keep books, table games, awards, etc. You can paint the barrel a dark brown or black gloss, and you will need to nail down the ends to keep them in place.
Bourbon Barrel Tops
Besides the requisite beer and food pairing, the best-personalized barrel tops can be found in several nooks and crannies throughout the home. Regardless of where you live, the personalized barrel tops are a surefire way to add to your wine barrel furniture collection and make a statement on a budget. As with any home improvement project, starting small and working up to a larger scale is best.
The best-personalized barrel tops have been around for some time and are amongst the family's most treasured possessions. Fortunately for you, they're not all that far to travel, and the barrel tops can be found at your local high-end home improvement store. Make sure to get the right size!
Barrel Snowman
A handful of other notable Christmas decorations are available online or at the stores, such as the Animated Singing Light Up Snowman and the Dancing Snowman with Bow Figurine. These barrel Snowmen are made from used oak barrels and other types of barrels. The best part is that you can purchase them or try to make them on your own.
If you are unsure about making a barrel snowman, you can buy a cracker barrel snowman from their official website. However, if you decide to make a snowman and explore its adventure, visit our store for some great quality used barrels.
Whiskey Barrel Glasses
Personalized whiskey barrel glasses are the best personalized whiskey barrel gift for a whiskey lover. You can find them in many different sizes and colors. These glasses are made of crystal glass, so they are safe for liquor. They are also dishwasher safe & lightweight and maximize the complex flavors of whiskey. They are also large enough to hold ice cubes.
The barrel is made from natural wood and contains heavy charcoal on the inside. They make a classy conversation piece and are ideal for your home bar, office, or living room. Get in touch with our barrel experts to know more about barrel-based personalized items for homes and offices.
Personalized Whiskey Barrel Kit
Personalized whiskey barrel kits are a great way to give whiskey lovers a unique decorative wine barrels gift. They can be personalized with the name of the distillery, the distillery's year of establishment, and the town of the distillery. Many kits are available online, and you can choose the one that best suits your needs. The whiskey barrel kit includes everything you need to age your favorite dram.
If you are still trying to decide on the barrel kit for someone, you can make it yourself. All you will need is some good-quality used bourbon barrels, tools, and some decorative items. Refer to online DIY projects for barrel items, or get in touch with our experts.
Personalized Mini Whisky Barrel
Personalized used whiskey barrels are an attention getter and a cinch to clean. Unlike the old-fashioned oak barrels, they come with a modern wood stand, spigot, and detailed instructions. They are also the best-looking of the lot and are perfect for storing scotch, rum, tequila, and whiskey. Visit Rocky Mountain Barrel Company website to learn more about high quality barrels.
Get in touch with us if you're looking to stock up on the latest spirits for your next big bash. We have barrels for everything from storing the liquors to addons for your barrel decor. The best part is that these whiskey barrels are reasonably priced and make great party favors.
Key Takeaways
If you are looking for a way to give your favorite whiskey lover a gift, a personalized barrel item is a perfect choice. The beauty of personalized barrel items is that you can choose your famous logo or name. Some of these items are engraved, while others are stenciled. Personalized barrel items are the perfect gift for any wine or whiskey lover. You can find items such as bourbon barrel tops, personalized barrel wall shelves, cabinets, etc. Visit our store to learn more about used barrels and how to use them for your barrel decor.