How To Match Wine With Food?
August 25, 2022
Making Your Own Whiskey: A Step-by-Step Guide
October 4, 2022
Are you not sure what decor you want for your wedding? Do you have bourbon barrels that give a vintage vibe, but you do not know how you can make the best use of them at your wedding?
Weddings are one of the biggest things in an individual's life. You want everything to be perfect on that day. Starting from your gorgeous wedding gown to the food and also the decor, you want every little thing to be perfect. But did you know you can use the old barrels lying around your property as your outdoor barrel wedding decor?      
If you are planning a spring outdoor wedding, nothing can work as a better prop than an old bourbon barrel. In fact, bourbon barrel decor ideas at weddings have become very popular these days.
Imagine a fine spring morning, the outdoors is filled with birds chirping and flowers blooming, and you are getting married in such a beautiful setting. Isn't it amazing? When the barrel wedding decor is naturally vintage and elegant because of the bourbon barrel props, you will absolutely love it.
The bourbon barrels give an elegant touch to your outdoor wedding. The dark-colored barrels, with their rustic touch, could be used for a number of things at your wedding. They are not only very aesthetically pleasing, they also can be very functional.
In this article, we will cover everything that you need to know about outdoor wedding decoration ideas with bourbon barrels. So, if you are interested in utilizing this unique and incredible décor motif on your big day, keep reading the article.
Ways to Use Bourbon Barrels as Décor for Outdoor Weddings
If you are not sure how you can use bourbon barrels to give a rustic touch to your wedding, here are some barrel decor ideas that will help you understand:
1. Bourbon Barrel Bar
Can you imagine a wedding without champagne, wines, cocktails and whiskey? Wedding is a day about celebrations and making toasts to everyone you are grateful for. And so, having a bar at your wedding becomes very important. When you are planning to have an outdoor wedding, setting up a bar that goes with the vibe of the wedding can become difficult. But you can easily make your bar look elegant and attractive.
Set a bar at your wedding using multiple bourbon barrels. Arrange the drinks on the bar properly and use nice glassware as well. The bourbon barrel bar will give a vintage and classy vibe to your wedding decor. People will be blown away and unable to stop talking about it.
2. Bourbon Barrel Floral Arrangement
Another important element in a wedding is undoubtedly flowers. Can you even imagine a wedding without flowers? Especially if it is an outdoor wedding. Flowers add delicate, feminine beauty to your wedding decor. So, when you have to make flower arrangements for your wedding, make use of the bourbon barrels to decorate flowers. You can place multiple bourbon barrels on both sides of the aisle and put flowers in them.
It will work as a vase, only a bigger version of it. Furthermore, you can also keep it at the side of the entrance to create a walkway for people from the entrance to the reception venue. Apart from that, if you are on a budget and feel flower arrangements can be too costly, you can still use the bourbon barrels to create a walkway. Keep the pictures of the bride and the groom along with some notes from their loved ones to give a rustic welcome to the guests.  Bourbon barrels overflowing with flowers will make your wedding something out of a fairy tale.
3. Bourbon Barrel Tables
Would you not love to have a table at your wedding around which people can talk and have fun? You can use the bourbon barrels as a table to add an elegant feel to your wedding. Remember, it is the little decor ideas and fine touches that you incorporate at your wedding that add more value to the decor.
Use the bourbon barrel to make a cocktail or bistro table. Add a glass or a wooden top to the bourbon barrel and place some drinks, glasses, and flowers on it. Try to take a step back from the regular wedding decor and incorporate such vintage beauty into your wedding.
4. Bourbon Barrels to Keep Rings And Candles
You need a table at the altar. What is better than using a bourbon barrel at the altar to keep candles and rings? This will not only act as elegant barrel wedding decor but also is very functional. You might be going with a vintage, elegant, and rustic theme for your wedding.
Place Unity candles on top of the barrel at the altar. You can also use it to display other such communion elements at your wedding. Furthermore, you can also keep the notes of your vows on the Bourbon barrel at the altar top to avoid any mishap.
5. Bourbon Barrel as Reception Space
What about your wedding cake? Where are you planning to keep it? If you have bourbon barrels, you can make it work in your reception space as well. Keep your wedding cake on the bourbon barrel, and it will completely compliment the outdoor wedding vibe.
Furthermore, the bourbon barrels are quite compact and save a lot of space. It will also attract the guest's attention to the wedding cake because of the minimal space it consumes. You can use the space as a dancing area where the guests can drink, dance, and have fun celebrating your big day.
6. Bourbon Barrel Decoration at the Entrance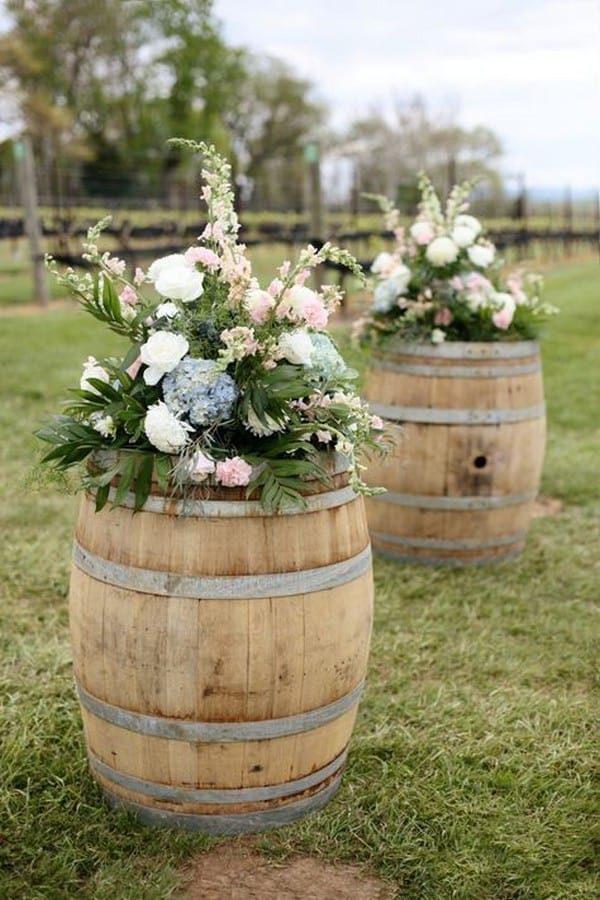 The entrance of your wedding venue must look great. It must have a table-like structure with flowers, a picture of the bride and the groom, their names, and many more such decorations. The entrance to your wedding venue also adds a lot of value to your entire decor. So, instead of using a table, use a bourbon barrel to add all such things to the entrance. It will make the entrance look absolutely amazing.
Conclusion
There are a lot of ways you can use a bourbon barrel as a prop for your outdoor wedding space. It does not matter which one you are choosing, using a bourbon barrel will add a unique touch to your outdoor decor and surely impress all the guests.
If you are planning an outdoor wedding, take my advice and decorate your outdoor space with barrels like bourbon barrels or any wood barrel. You could also use wine barrel wedding decor or whiskey barrel wedding decor to add a similar vintage rustic vibe to your wedding.