What Other Spirits and Wines Can Learn From Used Bourbon Barrels
December 9, 2022
Try these special barrel-aged whiskeys to make your Christmas remarkable
December 15, 2022
Keeping used whiskey barrels in your home can give your home a unique look. You can make these barrels into several decorative products, such as a wooden oak barrel used as a rainwater harvester, sink, bookcase, or more. Adding festive barrel decor ideas to your home can add a certain sparkle and warmth that could make this your best holiday season yet. Use a vintage Champagne barrel as a Christmas tree stands for a simple yet festive look.     
Using barrels for holiday decor can be a fun way to get creative. If you love Christmas and want to create some cool, unique decor, you can use a barrel for your holiday decorating ideas. You can visit our store to check different types of barrels, from wine to whiskey and oak, and you can even buy used barrels from us for use as your home decoration. A few extra Christmas tree decorating tips to add to your decor include hanging ornaments, natural elements, and pre-lit trees.    
Below mentioned are some of the unique Christmas home décor ideas:    
Barrel Coffee Table   
Using a barrel to create a coffee table may be in some people's wheelhouse. But a whiskey barrel can be a cool way to display your favorite bottles if you're into booze. The wood's natural grain shines through, making each piece a one-of-a-kind work of art. Placing this barrel table near your Xmas tree will dramatically increase and compliment the beauty of your barrel Christmas tree decoration.    
The best part about a barrel coffee table is that you can customize it to fit your tastes and decor. You can also use it to display your favorite bottles or keep a few blankets on hand. It gives that cozy rustic feel that can make this Holiday season one you will never forget.  Visit our store to buy barrels and learn more about barrel-based home décor.
Bookshelves  
A functional shelf made from Used whiskey barrels can make a stylish statement in your living room. And what better way to display your books than on a cool piece of furniture made from real wood? A bourbon barrel cabinet with two LED lights is a fine example of a practical and stylish piece of furniture that will make the most of your study or workspace.  It is slick and modern, while at the same time being rustic and classic – the best of both worlds.   
A bourbon barrel shelf is a surprisingly cheap and stylish addition to your Christmas home décor. You can create different bookshelves from used oak barrels; visit our store to know how to decorate for Xmas using oak, whiskey, and wine barrels.    
Barrel Lid Wall Clock 
 
Using a whiskey barrel lid to craft a functional wall clock is a good idea. The good thing about using an aged whiskey barrel is that you can reuse the barrel for many years to come. Using a whiskey barrel is also a great way to show your whiskey pride, or at least your whiskey pride. You can also reach out to us to learn how to decorate for Xmas in 2022 and get used barrels for your wall clock.    
There are many ways to show off your love for booze. One of the best ways is to display your whiskey on a whiskey barrel wall clock. You will be hard-pressed to find someone who isn't impressed by this unique piece of wall art.    
Fountains   
Using used whiskey barrels to create decorative products can be fun and frugal. They can be used to create attractive fountains as a part of barrel-based Christmas tree decoration. You can add several elements to the fountain that emphasize the use of a barrel for Christmas decoration. And the best part is that you can place it anywhere you want as a decorative piece.    
You can get used barrels from our online store at a reasonable price. However, if you need help with how to use barrels for Christmas decoration, reach out to us for some useful Christmas tree decorating tips and guidance and make your Christmas eve more special.    
Repurposed Decorative Sinks  
A plethora of used wine barrels around your home can allow ample opportunity to turn them into functional and decorative art pieces. In addition to creating a whiskey barrel sink, you can take the same plethora mentioned above of liquor barrels and turn them into a mini pond. The sky is the limit as long as you are not too cheap to splurge on many liquor barrels.     
For a start, a professional can assemble your sink, take the above-mentioned plethora, and turn it into a miniature masterpiece. Regardless of how you go about your decorative sink, you are sure to be the envy of all your neighbors and your family.     
Rainwater Harvester  
Using a whiskey barrel as a rainwater harvester can be a great way to reduce your water bill. Used bourbon barrels make an excellent rainwater harvester. They are lightweight and durable and can be used in various ways. When choosing a barrel, you should look for a large-capacity barrel of high-density polyethylene.    
If you plan to make a rainwater harvester for your Christmas decoration, visit our store to buy used barrels. These barrels can hold up to 80 gallons of water and be screen topped. You can make them in a variety of colors and styles.    
Barrel Cargo Chests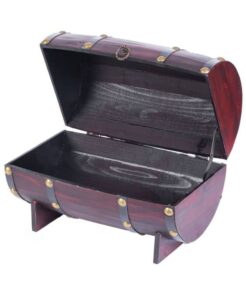 Throughout history, barrels have been used to transport all kinds of bulk goods. Compared to sacks, they were easier to transport, and they were also more sturdy and secure and less likely to attract rats and other unwanted pests. Given their importance in the past, you can use these barrels for the best Christmas decorations at your home and offices. They are easy to make, and you can even get them online.    
These wooden barrel chests can also be used for storage because of their unique shape and ability to withstand a large amount of weight. A barrel chest is a great way to add a royal touch to your Christmas home décor.    
Key Takeaways  
The best part is that you can use a barrel in several ways. Aside from a functional coffee table, you can use it for storage, decor, or to hold a few glasses of whiskey. Consider creating a yarn pine forest if you're looking for ideas to add color to your holiday decorations. This pine forest with a barrel Christmas tree stand will make great Christmas home decor. You can also hang pinecones from a velvet bow. Alternatively, you can use seeded eucalyptus instead. Reach out to our barrel expert for more creative and fascinating ideas and tips for Christmas decorations at your home and offices.  Happy Holidays from your friends at Rocky Mountain Barrel Company!