Planting Blooms or Veggies in a Whisky or Wine Barrel Planter
August 28, 2023
The Future of Wine Barrel Innovation: Trends to Watch
October 4, 2023
Have you ever wondered why some wines taste so rich and complex while others are more straightforward and fruity? The secret often lies in barrel-aging wine. Traditionally, wine was aged in earthenware jars or clay amphorae; however, these fragile yet heavy containers presented numerous logistical hurdles during wine aging. Let's explore the barrel aging traditions and trends, how long it takes, the types of barrels used, and the key differences between Old and New World approaches to using an oak barrel for aging. So, grab your favorite drink, and let's dive in!
Join the barrel aging revolution with Rocky Mountain Barrel Company – Start shopping now!

What is Barrel Aging?

Barrel aging is an enchanting alchemy that transpires as spirits repose within wooden barrels for a designated duration. During this maturation, beverages interact with oak barrels, aiming to augment flavor and intricacy. This enhancement unfolds through a trifecta of essential processes: the oxidation of ethanol, the retrieval of sugars from fermentation, and the absorption of distinct barrel flavors. A distiller faces the choice between utilizing pristine barrels, unadulterated by previous spirit infusions, or opting for seasoned barrels, which contribute layers of complexity and an additional depth of flavor complexity to their whiskey.
Oak aging is often used in making cocktails, with flavors and aromas from the barrel helping to balance out its sweet notes. Furthermore, alcohol oxidation in barrels leads to the formation of compounds known as esters, which provide fruity or floral notes in barrel-aged drinks.
The porous composition of wooden barrels enables them to soak up a medley of flavors, both sought-after and less favorable, from the spirits they cradle, including bourbon and various whiskies undergoing the aging process. This absorption gives rise to distinctive character profiles that exert their influence on future batches of stored spirits. Frequently, artisans in the craft brewing realm, particularly those dedicated to the art of barrel aging, deliberately select barrels previously used in bourbon, rum, sherry, port, or brandy aging sessions to refine and mature their beers.
Elevate your winemaking or brewing game with our quality oak barrels. Check out our selection!

How Long is Barrel Aged?

The length of time wine spends aging in barrels is a variable crucially tied to a winemaker's objectives and the specific type of wine being crafted. This aging period holds significant sway over the ultimate taste and quality of the wine. The porous structure of a barrel facilitates a slow and steady process of oxygenation, enabling a gradual infusion of nuanced wood flavors into the wine. This meticulous and deliberate integration is essential for the maturation of the wine, a skill that brewers often invest considerable time mastering within their production processes.
Depending upon the style of beverage you're producing and the type of barrel being used, barrel aging can produce bolder fruity notes or create complex and savory aromas. The longer it ages in a barrel, the richer and tastier its final product.
Are you looking for the perfect barrel to age your wine? Discover our range of oak barrels now!

Types of Barrels Used

Wood is an indispensable element in the art of barrel aging. The inherent porosity of oak allows liquids to permeate in and out effortlessly, absorbing flavors and aromas intricately. Additionally, oak wood engages with the alcohol during the aging process, releasing compounds such as acetaldehyde and ethyl acetate, subtly adjusting the flavor profile and enriching the aromatic essence of the contents.
Barrels can be crafted from various types of wood, such as oak, hickory, and cherry. However, oak barrels stand out, particularly in whiskey aging, owing to their exceptional ability to impart a rich and deep flavor, which delicately tones down the more robust notes of the spirit. American oak barrels, in particular, contribute unique vanilla-like notes, making them a favored choice among enthusiasts of various whiskey variants.

American Oak

American oak barrels are renowned for infusing wines with bold and robust flavors, a characteristic highly prized by winemakers. These barrels frequently lend distinct notes of vanilla, coconut, and dill to the aging wine, enhancing its complexity and aroma. Notably, American oak is prominently utilized in New World winemaking, particularly in the United States, where its unique flavor profile is appreciated and thoughtfully integrated into the crafting of wines.

French Oak

French oak barrels are preferred by many Old World winemakers, especially in France. They offer a more subtle influence on the wine, with delicate flavors like spices, toast, and nuts. French oak aging is often associated with wines from regions like Bordeaux and Burgundy.
The charring level of barrels is a critical aspect influencing bourbon's flavor profile, beyond just their structural attributes. This process significantly impacts the taste, permeating the wood to interact with the aging spirit and impart desired flavors. Charring plays a key role in reducing ethyl acetate levels, softening any harsh or sulfurous notes in the ingredients and resulting in a smoother, refined taste. Additionally, barrel size matters—larger barrels provide ample airflow and stability, minimizing temperature fluctuations during aging, while smaller barrels are suited for spirits, like sherry, requiring cool temperature storage for a controlled maturation process. Each element, from charring intensity to barrel size, contributes to the unique and distinct flavor characteristics of bourbon.
Find the ideal oak barrel for your winemaking journey. Explore our collection today!

Old World vs. New World Barrel Aging

Most ardent wine connoisseurs are well-versed in the distinctions between Old World and New World wines. This understanding is crucial in assessing a wine's flavor profile and its compatibility with specific meals. Now, let's delve into the disparities in barrel aging techniques between the Old World and the New World.

Old World

Old World wines originate in countries considered to be the "birthplace" of wine production, meaning they have been produced for thousands of years in certain regions. Old World wines tend to possess earthy notes paired with subtle fruit characteristics and are generally lower in alcohol content compared to their counterparts produced elsewhere.
In Old World winemaking regions like France, Italy, and Spain, tradition reigns supreme. Winemakers here have been using oak barrels for centuries and often opt for French oak. The focus is on terroir, where the unique characteristics of the region's soil and climate shine through. Barrel-aging wine is seen as a way to enhance its natural qualities, and it's typically done for a longer period but with a subtler oak influence.

New World

New World wines originate from regions that recently embarked on wine production, often during or after periods of exploration or colonization. Countries like South America, the US, Australia, or New Zealand fall into this category. Winemakers in these regions often prioritize crafting wines with robust and pronounced flavors, ensuring a delightful, approachable taste that complements a variety of dishes seamlessly.
In New World wine regions like the United States, Australia, and Argentina, winemakers are more adventurous and innovative. They embrace the American oak barrel for aging and use them to impart pronounced flavors to the wine. The focus is on creating bold and fruit-forward wines that are ready to be enjoyed sooner. Barrel aging periods tend to be shorter, allowing the fruit flavors to shine through.

Old World vs. New World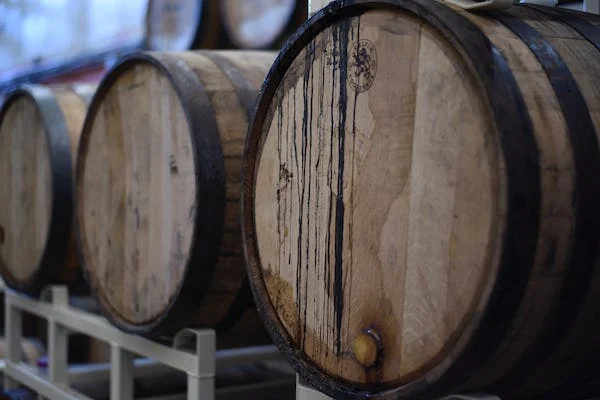 Old World and New World wines differ primarily in that Old World winemakers tend to emphasize terroir (the environment where grapes are grown), while New World producers tend to concentrate more on fruit flavor profiles produced by grapes grown there. Furthermore, Old World wines tend to have lighter bodies and lower alcohol content.
Although it might seem inconsequential, the climate and temperatures of the region in which wine or alcoholic beverages are made have an effect on their flavor. Old World wines typically hail from countries with cooler temperatures, while New World varieties come from warmer regions; these differences also reflect differences between types of grapes grown to create each type of wine.
Old World wines are distinguished by their classical style, placing a strong emphasis on elegance and a well-balanced composition. They are often characterized by earthy or nutty notes, subtly complemented by hints of fruit. In contrast, New World wines are celebrated for their bold, pronounced flavors and fruity aromas. This makes them an excellent option for individuals who prefer enjoying wine on its own or paired with light, complementary meals.
Most importantly, Old World wines are more costly than their New World counterparts because they are produced in smaller batches and need additional maturation time. However, many wine lovers consider the extra expense worthwhile due to its superior quality and finished product. Labeling can also provide an easy way to distinguish Old from New World wines. Old World wines tend to be named for the region in which they were produced, while New World wines will list grape varieties used for production on their bottles.
Ready to explore the world of barrel aging? Shop our premium oak barrels today!

Oak Aging in Wine

Envision the world of wine production—a dance of bustling harvests, clusters of grapes hanging from vines, or careful hand-picking, alongside rows of oak barrels neatly stacked in cellars. Even with modern mechanization, these timeless images encapsulate the very essence and significance of this craft in crafting quality wines.
At the heart of winemaking lies the essential role of barrels. They act as alchemic vessels, enabling precise interactions between the wine and the wood, broadening its aromatic spectrum and enhancing complexity in flavors and scents. The aging process within an oak barrel orchestrates a gradual exchange of phenolic compounds, notably ellagitannins and acetic acid, as they delicately infuse back into the wine through contact with the wood's surface. This infusion not only adds stability but also molds the wine's aromatic character into a distinctive and nuanced profile.
Oak barrels have historically been the go-to container for aging wine due to their hardiness, permeability, contribution of aromas, and certain properties that prevent molds and yeast growth. However, due to increased demand, alternative materials like stainless steel tanks or concrete vats have emerged as viable solutions for barrel-aging wine.
Some producers have recently experimented with using less new oak in order to control the amount of barrel character in their final wine. This trend is heavily influenced by consumer tastes as well as market conditions and winery size. For instance, in France, where strong oak presence remains popular, consumers are demanding lower levels of oak in wines. Some producers have responded by opting for larger stainless steel tanks, which do not introduce any secondary flavor compounds into the final wine product.
Oak aging isn't limited to wine; it's also used in producing spirits like whiskey and brandy. The oak barrels add depth, character, and complexity to any liquor stored inside, making them favorites among brewers and connoisseurs.
In recent years, craft brewers have rekindled an appreciation for the advantages of barrel-aged beers, leveraging diverse barrel types to enhance their creations. A spirit of adventure often leads brewers to repurpose used barrels, remnants of whiskey, rum, wine, or sherry still evident, infusing a distinctive character into their beers.
A sustainability-driven approach has emerged within the brewing community, with many breweries opting to recycle their own barrels for aging beer. These barrels serve as aging chambers for several months to as long as three years, allowing the beer to assimilate unique flavor profiles from the residual spirits or wines that once inhabited the barrels. This ingenious method not only imparts ample tannins and flavors, enriching the beer's fermentation process, but also underlines a commitment to sustainability in the craft brewing industry.
Unlock the secrets of barrel aging – Get started with Rocky Mountain Barrel Company.

Conclusion
In conclusion, barrel aging is a fascinating aspect of winemaking that bridges tradition and innovation. Whether you prefer the refined elegance of the Old World or the bold and expressive flavors of the New World, there's a barrel-aged wine for every palate. So, next time you sip a glass of wine, take a moment to appreciate the artistry that goes into the oak barrel for aging and its unique influence on your favorite drink. Cheers!
Experience the difference of barrel aging – Shop Rocky Mountain Barrel Company now!