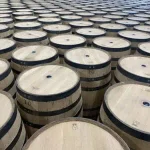 Old World vs. New World Barrel Aging: Traditions and Trends
October 4, 2023
Barrel-Aging 101: Aging Beer in Bourbon Barrels vs. Rye Whiskey Barrels
October 5, 2023
Making some of the world's most expensive and premium wines is not just about the grapes; it's also about the barrels that age them and give them their unique taste. These wooden vessels have been integral to the winemaking process for centuries, imparting unique flavors, aromas, and textures to the wines they cradle. However, as the wine industry evolves, so too does the technology and craftsmanship behind these humble wooden barrels for sale. In this article, we'll explore the exciting trends shaping the future of wine barrel innovation and delve into the three major contributions oak barrels offer to winemaking. So, let's raise a glass to the future of wine barrels!
Ready to take your wine to the next level? Discover our selection of premium wine barrels for sale at Rocky Mountain Barrel Company and embark on a flavor revolution!
The Evolution of Wine Barrel Technology
The global wine barrel market is experiencing remarkable growth due to the increasing appreciation for high-quality wines among consumers. This surge can be attributed to factors such as the rising levels of wine consumption worldwide, the growing number of restaurants, bars, and hotels offering specialized wine services, and heightened awareness about wine quality. Consumers are becoming more discerning about the wines they consume, leading to a higher demand for wines aged and matured in top-quality barrels. Additionally, the establishment of vineyards, wineries, and the surge of boutique and craft wineries have significantly contributed to the escalating demand for wine barrels. Overall, the market is driven by a combination of factors that align with the evolving preferences of wine enthusiasts.
Wine Barrel Market Trends
The wine barrel market is evolving at a rapid pace. Winemakers, both traditionalists and modernists, are constantly seeking innovative ways to enhance the quality of their wines. This drive has led to an influx of new techniques and materials in the industry. Among the most notable trends is the increasing use of alternative woods and materials for wine barrel construction. While oak remains a staple, wineries are exploring the use of chestnut, acacia, and even stainless steel barrels. This experimentation opens doors to exciting flavor profiles and reduced environmental impacts.
Global Oak Wine Barrel Market
Within the wooden barrel category, oak barrels continue to dominate. The global oak wine barrel market is expanding as demand for high-quality wines remains strong. Winemakers recognize that oak barrels bring essential attributes to their creations, which brings us to the first major contribution of oak barrels to winemaking.
Be part of the oak barrel renaissance. Elevate your winemaking with our expertly crafted wooden barrels for sale – available exclusively at Rocky Mountain Barrel Company.
What are the three major contributions oak barrels offer to winemaking?
1. Flavor Infusion
Oak barrels are renowned for imparting diverse flavors and aromas to wine. The oak wood harbors compounds like vanillin, lactones, and tannins that engage with the wine, enriching its complexity and distinctive character. The interplay between factors such as the oak's source, the toasting intensity of the barrel, and the duration of the wine's aging empowers winemakers to craft a wide array of flavors, ranging from vanilla and caramel to spicy and toasty notes. Consequently, winemakers possess the ability to create wines that stand out in their uniqueness, offering an exciting spectrum of tastes and scents to delight the palate of wine enthusiasts.
2. Microoxidation and Maturation
Oak barrels play a crucial role in the wine aging process by enabling controlled microoxidation. Through the wood, minute amounts of oxygen permeate the wine, facilitating its maturation. This gradual introduction of oxygen works to soften harsh tannins, integrate flavors, and stabilize the wine. It allows the wine to breathe and evolve, culminating in a final product that is smoother and more refined. This natural maturation process is fundamental, underscoring why oak barrels are regarded as indispensable in the art and science of winemaking.
3. Aesthetic and Tradition
In addition to their functional attributes, oak barrels carry profound aesthetic and traditional significance. They symbolize craftsmanship and heritage, forming a tangible link between modern winemakers and centuries-old traditions. The image of wine barrels neatly stacked in a dimly lit cellar evokes a sense of romance and authenticity, creating an experience that resonates with wine enthusiasts worldwide. This deep-rooted connection to the past adds a layer of cultural richness to the art of winemaking, making oak barrels not only containers for wine but also vessels that encapsulate the essence of history and artistry.
Sip, savor, and shop for the future of winemaking. Visit Rocky Mountain Barrel Company today to discover the perfect wine barrels for sale.
What is the trend in the wine barrel industry?
Sustainability and Eco-Friendly Practices
As environmental concerns continue to grow, the wine industry is embracing sustainable practices, and the wine barrel segment is no exception. Wineries are increasingly investing in practices that reduce the environmental footprint of barrel production. This includes using responsibly sourced wood, reusing and repurposing used wine barrels, and exploring alternative materials that are more environmentally friendly.
Customization and Precision Aging
In an era where personalization is highly valued, winemakers are seeking more control over the aging process. This has led to the development of precision aging techniques, where winemakers can fine-tune the impact of oak on their wines. From adjustable stave inserts to hybrid barrels that combine different woods, customization is on the rise. This trend ensures that winemakers can achieve their desired flavor profiles with greater accuracy.
Digital Monitoring and Data-Driven Winemaking
Advancements in technology are also infiltrating the wine barrel world. Wineries are utilizing digital monitoring systems to track and analyze the conditions within each barrel. This data-driven approach allows for precise control over temperature, humidity, and oxygen levels, ensuring optimal aging conditions and consistency in the final product.
A barrel monitoring technology system encompasses a sensor assembly placed within the barrel bung to detect environmental attributes such as temperature. Alongside, a transceiver is integrated to wirelessly transmit data directly to an end-user device, enabling wine and whiskey makers to monitor and analyze a barrel's data pattern for achieving optimal aging conditions. By establishing a target profile based on ideal parameters, deviations from historical trends trigger alerts, prompting timely intervention to maintain the desired aging environment and preserve the quality of the aging spirits. This innovative technology empowers producers to fine-tune the aging process and ultimately enhance the flavor and characteristics of the final product.
As such, this provides an opportunity to proactively manage the barrel aging process by altering parameters such as temperature or rotation of barrels within a facility. For instance, barrels located close to HVAC ductwork will receive significantly more thermal energy during an HVAC cycle compared to those located further away.
Craftsmanship meets innovation at Rocky Mountain Barrel Company. Explore our range of eco-friendly and customizable wooden barrels for sale for your next winemaking adventure.
Used Wine Barrels: A Sustainable Choice
In the quest for sustainability, used wine barrels are gaining popularity. These barrels have already contributed their flavors to one batch of wine, but they have more to offer. Wineries are repurposing wine barrels for various purposes, such as aging spirits, infusing flavors into beer, or even crafting unique furniture pieces. This trend not only reduces waste but also adds a touch of history to new creations.
In conclusion, the future of wine barrel innovation is filled with exciting possibilities. From experimenting with new materials and precision aging techniques to embracing sustainability and digital monitoring, winemakers are poised to take their craft to new heights. However, amidst all the innovation, the enduring appeal of oak barrels, with their unique contributions to flavor and tradition, remains unwavering. As we raise our glasses to the future, let's savor the evolving world of wine barrels, where craftsmanship, technology, and sustainability converge in a toast to great wines yet to come.
Sustainability meets flavor in our barrels. Experience the future of winemaking with environmentally friendly options at Rocky Mountain Barrel Company.