Top 24 Frequently Asked Questions [FAQs] About Bourbon Whiskey
February 25, 2021
How to Choose Once Used Bourbon Barrels and How Rocky Mountain Barrel Can Help You Do That?
March 16, 2021
What gives the whisky its smoky taste, shading, mouthfeel, and smell? The barrel and mostly the interior of the barrel.
You can get all the means directly from the starting point — the best grains, a perfect water source, a faultless refining measure — however, it's the aging process that gives the drink its character. What's more, the barrel's inside has a significant impact on that.
The Burning Process of Casks: Toasting Barrel V/S Charring Barrel – Which One Is Ideal?
It's the law when refining spirits like whiskey — it lawfully must be matured in a charred oak barrel for specific aging. In any case, burning a barrel's inside is additionally prepared and makes it simpler for the drink to interface with various segments.
Warmth causes hemicellulose inside the wood to separate into characteristic sugars, coming about in hot caramel notes, shading, and fragrances, while oak lactones add a woody, coconut-like notes.
At the point when presented to heat, tannins become less astringent. At the same time, oak lignin (a fiber inside the wood) separates into flavor particles like eugenol (spiced/cloves) and, all the more broadly, vanillin (vanilla).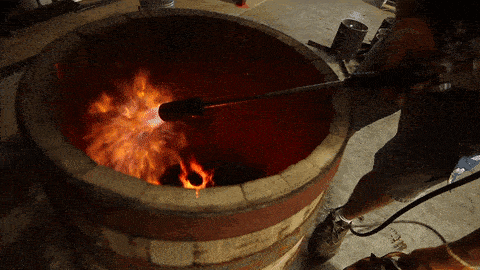 Used Bourbon Barrels and Whiskey Barrels play a vital role in the aging process of the spirit! If you think of buying used bourbon barrels for your whiskey-making process, read our blog on Understanding the 'Bourbon Boom' and Increasing Demand for Bourbon Barrels for great bourbon barrels and whiskey barrels online!
We have mainly two sorts of burning processes that whiskey creators use while making their barrels: toasting and charring. What is the distinction between the two? Which one should you go for? Let's discover it in this article.
Charred Barrel
When contrasting the two techniques, the difference between charred and toasted barrels is how much the wood is charred. Charred barrels, for instance, are burned and look like the remaining parts of a pit fire after it has been quenched. The inside charred barrels are dark and have considerably more debris buildup, bringing about a lot darker tone for the bourbon.
To the extent flavor goes, charred wood bestows better flavors like caramel and nectar. For this, they also use charred white oak barrels. The purpose behind this is that the wood sugars are caramelized when intensely consumed, and accordingly, they drain into the bourbon.
Presently, you will discover you hear at times a barrel has been charred to a specific number (for example, a new American white oak barrel with a #4 char). This "barrel char level," as it is called, fundamentally implies the higher the number, the deeper the burning char into the wood. There's a great deal of science around this; however, know the hazier the char, the more extraordinary the flavor profile will be, and the brighter the whiskey probably will be.
Are you thinking of getting a whiskey barrel for your farmhouse? If you want to mature your spirit, opt for a whiskey barrel online! We have multiple varieties of aging whiskey barrels now!
Charred barrels also impact the liquor: the carbon in the debris goes about as a filter for the alcohol's harsher components. Maturing bourbon (like whiskey) in charred barrels brings about a smoother, mellower flavor.
Toasted Barrel
In contrast to the charred barrels, toasted barrels are warmed significantly more tenderly, bringing about a dull earthy-colored toast instead of a darkened roast. Toasted barrels add a touch more vanilla flavor to the alcohol, just as hot accents. Since the wood hasn't been charred, the sugars haven't had the opportunity to caramelize, making the bourbon stay sharper to taste. Toasted barrels likewise don't confer as much tone into the spirit, bringing about a lighter shade.
So which technique is better? Eventually, it boils down to individual interests. If you like a smooth, creamy, sweet-tasting bourbon, search out whiskies matured in charred barrels. Assuming, be that as it may, if you appreciate a solid, fiery beverage, at that point, a toasted barrel whiskey would be your choice. However, taking everything into account, drinking whiskey is a decent one, paying little mind to the barrel where it was matured.
The whiskey is warmed in the toasted oak barrels. Rocky Mountain Barrel Company provides its customers with rich and stylish used toasted oak barrels for excellent aging and brewing process! You can always contact us in case of any need for bourbon barrels online!
Which One to Choose Between the Two?
It all depends on personal preferences! If you want a strong beverage, you should go for a toasted barrel. While you want a rich texture, opt for charred barrels! But, before opting for any one of them, know their taste differences!
It all depends on personal preferences! If you want a strong beverage, you should go for a toasted barrel. While you want a rich texture, opt for charred barrels! But, before opting for any one of them, know their taste differences!
Taste the Difference!
Numerous refineries will disclose to you their barrel determinations, so you can try to check whether you can distinguish a distinction. Most utilize the heaviest singe. However, a couple, like Woodford Reserve and Maker's Mark, use something somewhat lighter.
A few bourbons utilize toasted, un-roasted barrels for maturing, for example, Old Potrero's eighteenth-century-style bourbon, which is produced using a rye squash.
If you are looking for used bourbon barrels for sale, click here.
Utilizing toasted barrels may not be a broad marvel, yet the flavors acquired through the cycle offer one more particular minor departure from a recognizable bourbon.
You can read our blog on Everything You Should Know While Choosing a Perfect Bourbon Barrel!
Have you ever thought about why used whiskey barrels are utilized for aging and brewing? Well, we're here to tell you!
Charred white oak barrel and wooden barrel give barrel-aged spirits their beautiful amber color (all spirits emerge colorless from the still), as well as pleasant notes of vanilla and coconut. When you age whiskey in a spirit barrel, the whiskey takes on the flavors and aromas of the spirit itself, as well as some woody overtones from the barrel.
CONCLUSION
So, by now, you must have got a clear glimpse of the difference between the charred and toasted barrel and which one to go for! If you are confused about where to buy used bourbon barrels, Contact us for more information on bourbon barrels.
We at Rocky Mountain Barrel Company, offer you used oak, bourbon, whiskey, wine, and rum barrels from across the world. We have branched into innovative barrels like those used to create a vanilla extract, hot sauces, or even maple syrup. Be part of our expanding client pool!