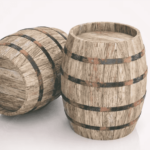 Barrel Ageing: Easy Steps to Fix Dry or Leaking Barrels!
August 24, 2023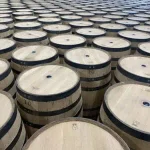 Old World vs. New World Barrel Aging: Traditions and Trends
October 4, 2023
Planting blooms or veggies in barrel planters is a creative way to grow plants, adding a touch of rustic charm to your barrel vegetable garden, indoor or outdoor space. These repurposed barrels, often made of oak, offer several advantages for gardening. The ample size and depth of the barrels allow for healthy root growth, making them suitable for various plants. Plus, the built-in drainage holes ensure proper water management, preventing waterlogging and promoting optimal plant health.
For blooms, you can choose vibrant flowers like petunias, marigolds, or geraniums, creating a colorful and visually appealing display. There are several ways to decorate your garden by planting the right flowers in whiskey barrel and placing it in the right spot in your garden. Alternatively, growing veggies like herbs, lettuce, or cherry tomatoes in the barrels allow you to have fresh produce at your fingertips while adding a delightful touch to your garden.
Moreover, the mobility of whiskey and wine barrel planters provides you with the flexibility to reconfigure your garden arrangement whenever necessary, maximizing sunlight exposure and adapting to varying weather conditions. In essence, cultivating flowers or vegetables in these barrels not only offers an eco-conscious choice but also presents a versatile and visually appealing approach to infuse vitality and greenery into your outdoor area. If you're in search of premium-quality used barrels for your gardening endeavors, reach out to Rocky Mountain Barrel Company today!
Using used whiskey barrels for planting blooms and plants offers several benefits, making them an attractive choice for gardeners and plant enthusiasts. You can even use whiskey barrel planter inserts to ensure your plants stay strong and grow right in wooden barrels. While planting your plants and veggies in wooden barrels, look for some useful and practical barrel planting ideas online or connect with one of the barrel experts at Rocky Mountain Barrel Company to learn more about the right barrels.
Below discussed are some of the reasons why you should go for whiskey or wine barrels for your barrel vegetable garden:
1. Eco-Friendly and Sustainable
Repurposing used whiskey barrels for gardening helps reduce waste and promotes sustainability. Instead of disposing of the barrels after their original use, following some of the best DIY barrel planter ideas and giving these barrels a second life as planters help minimize environmental impact.
2. Unique and Aesthetic Appeal
Oak whiskey barrels, with their rustic and captivating aesthetics, impart a distinctive and special essence to every garden or outdoor setting. Their presence seamlessly complements a variety of garden styles, ranging from the traditional to rustic and even cottage gardens.
3. Excellent Drainage
Whiskey barrels commonly feature integrated drainage holes, a crucial factor for fostering robust plant growth. Effective drainage mitigates the risk of water accumulation and root rot, facilitating the optimal moisture equilibrium for plants. For superior-quality used barrels, exclusively available through Rocky Mountain Barrel Company, don't hesitate to reach out to us today!
4. Size and Depth
Whiskey barrels are larger and deeper than standard planters, providing ample space for plant roots to grow and establish a strong foundation. This is particularly advantageous for plants with extensive root systems or requiring deeper soil. They work best for barrel vegetable garden and plantations.
5. Mobility
Despite their weight, whiskey barrels remain maneuverable, granting you the freedom to reorganize your garden or shift plants to varying spots as required. This adaptability proves advantageous for maximizing sunlight exposure and accommodating shifts in weather conditions, ensuring the well-being of your plants.
6. Sturdy and Durable
Whiskey barrels are designed to withstand the rigors of aging and holding alcoholic beverages, making them durable containers for gardening. With proper care, maintenance, and the right whiskey barrel planter inserts, they can last for many years and help plants grow and flourish.
7. Unique Growing Environment
The aged wood of the whiskey barrel can subtly influence the soil and plant growth. As the wood ages, it may release compounds that affect the soil's pH or add subtle flavors to edible plants, like herbs, creating a unique growing environment.
8. Raised Bed Option
Whiskey barrels serve as raised beds, which have multiple advantages, including better drainage, reduced weed growth, and easier accessibility for gardening without bending or kneeling. There are several barrel planting ideas you can try to give a perfect look to your garden.
9. Ideal for Small Spaces
For those with limited garden space or in urban settings, whiskey barrels provide an excellent solution for container gardening, allowing you to grow plants even in confined areas. DIY barrel planter ideas are becoming more popular with time as they save space and provide a perfect setup for your garden.
10. Conversation Piece
You can even use whiskey barrel planter inserts to protect your plants from unforeseen situations and give them proper support. The use of whiskey barrels in gardening often sparks conversations and intrigue among visitors, making them an engaging and aesthetically pleasing focal point in your garden.
While using used whiskey barrels for planting blooms and plants offers many benefits, it's essential to ensure they are properly cleaned and free from any harmful residues that could affect plants. With the right care, whiskey barrels can be transformed into charming and functional planters, creating a captivating garden display. Contact Rocky Mountain Barrel Company to learn more about the barrels and creative barrel planting ideas. We are the leading barrel-making company located in Colorado!
Read along to learn some useful things to know when planning your barrel vegetable garden:
Choosing the Right Barrel
Prioritize barrels crafted from oak or other appropriate planting materials. If they were previously used for whiskey or wine, ensure thorough cleaning to eliminate any residues that might pose a threat to plants. Verify the presence of drainage holes or add them by drilling at the base to avert waterlogged soil. For premium-grade used barrels at competitive rates, explore the offerings from Rocky Mountain Barrel Company. Feel free to reach out to us to delve into the details.
Selecting Plants
Choose plants that suit the size of the barrel and the amount of sunlight it receives. Consider the growing conditions (sun, shade, etc.) and the climate in your area. For flowers in whiskey barrel, consider colorful flowers like petunias, marigolds, or geraniums. For vegetables, you can go for smaller varieties without requiring extensive root systems, such as herbs, lettuce, or cherry tomatoes.
Soil and Fertilizer
Guarantee the utilization of solely top-notch potting mix, as this facilitates effective drainage and aeration for your plants. Enhance the soil's nutrient content by introducing slow-release organic fertilizer or incorporating compost, ensuring a steady supply of nutrients throughout the growth period. Prioritize premium-quality wooden barrels that can endure the impact of fertilizers while propelling your plants towards optimal growth.
Planting
Fill the barrel with the potting mix, leaving enough space for the plant's root systems. You must also consider arranging the plants in the whiskey barrel planter inserts, considering their spacing and height requirements. Once done, gently firm the soil around the plants and water thoroughly after planting.
Watering and Maintenance
Whiskey and wine barrels tend to dry out at a faster pace compared to conventional planters. Consequently, it's imperative to consistently assess moisture levels and provide adequate watering, particularly in warm weather conditions. To bolster moisture retention and curb weed proliferation, apply a layer of mulch or similar material. Regularly trim and deadhead blossoms to encourage fresh growth and uphold a tidy visual appeal.
Winter Care
In regions with colder climates, it's prudent to relocate the barrel indoors or to a sheltered space during winter to shield the plants from freezing temperatures. If the barrels prove too weighty for relocation, consider insulating the roots using straw or burlap, and envelop the barrel with frost cloth to offer a degree of protection. For innovative and functional barrel planting concepts, explore various ideas to ensure your project aligns perfectly with your desires.
Repurposing Barrels
As the barrels age, they may develop leaks or become less suitable for planting. In such cases, consider repurposing them as decorative elements in your garden or as rustic containers for non-plant purposes. There are several ways you can repurpose your barrels. However, delay the barrel aging process by getting the best quality barrels only from Rocky Mountain Barrel Company.
Introducing flowers or vegetables into whiskey barrel planters imparts a touch of allure and distinctiveness to your garden or outdoor setting. Remember to furnish optimal growing conditions and diligent upkeep to foster the flourishing of your plants, thus relishing both the aesthetics and practicality of these rejuvenated planters. Additionally, prioritizing superior-quality wooden barrels is crucial for your barrel-based vegetable garden or outdoor embellishment. To explore these possibilities and more, reach out to a barrel specialist at Rocky Mountain Barrel Company today!
Conclusion
Planting blooms or veggies in whisky or wine barrel planter is a charming and practical gardening approach that offers advantages such as ample space for healthy root growth, built-in drainage holes for proper water management, and the rustic appeal of repurposed oak barrels. For blooms, opt for colorful flowers like petunias, marigolds, or geraniums, creating a visually stunning display, while growing veggies like herbs or cherry tomatoes offer fresh produce in a delightful garden setting. Seek professional guidance from Rocky Mountain Barrel Company for some creative barrel planting ideas, and try following them to have an attractive barrel garden at your home. Happy Barrel Gardening!
Some Commonly and Frequently Asked Questions:
Can you plant flowers in a whiskey barrel?
Yes! You can grow several flower plants in whiskey barrels.
What grows best in a whiskey barrel?
You can easily grow blooming flowers in whiskey barrel like marigolds, geraniums, etc.
What flowers are good for whiskey barrel planters?
Flowers like daylilies, hostas, marigolds, geraniums, and coneflowers are good for whiskey barrel planters.
Can you plant vegetables in a wine barrel?
Yes, you can! Wine barrels are a fantastic choice for planting and growing vegetables and other blooming plants.
How long do whiskey barrel planters last?
Whiskey barrel planters may last up to 10 to 15 years if taken enough care.